Printkeg offers many shipping options including UPS Next Day, UPS 2-Day, UPS 3-Day Select, UPS Ground, USPS Priority Mail and USPS First Class services. We also offer flat rate options that may be shipped UPS or USPS. During checkout (after the cart page) you will be provided the available services based on the delivery destination, price range, and weight of the package. Shipping fees are calculated once the full delivery address is input.
For a more in-depth description of each service, please read this article about each of the different shipping methods available on our main website. We offer UPS and USPS shipping methods.
Once your order is shipped, we send a tracking number by email. Tracking numbers are also available by logging into your Printkeg account or in the order status section.
UPS Ground Transit Times
For UPS Ground shipping, the below color-coded map provides approximate times of arrival according to where we are located (South Carolina). This map was taken directly from UPS and is not guaranteed, but is VERY close. Please add one additional day for residential deliveries.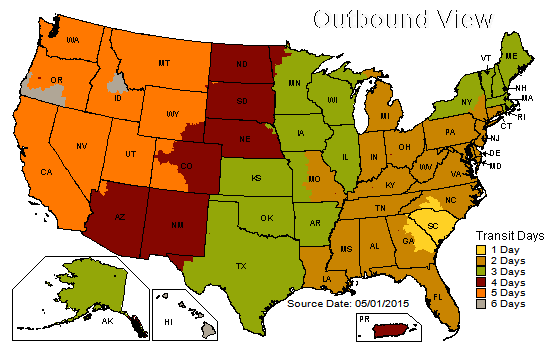 ​
What you should know about USPS – We provide some USPS Priority Mail options since the service is typically much cheaper than UPS with lighter packages. However, unlike UPS, USPS does not guarantee transit times being a far less reliable shipping alternative. For time critical shipments, we always recommend selecting a UPS transit method.
Damaged Packages – Generally, we replace all damaged packages. Just call or email us if this occurs. It will be required to send us pictures of the damage since this helps us improve our processes.
Late Packages – If your package is late, please call us at 1.800.676.0856 or contact us at contact@printkeg.com. We will do our best to track down packages or remedy the situation.
Important message about shipments requiring multiple boxes
If your order requires multiple boxes, there may be an additional charge of $5.99 to $7.99 per extra box for poster tubes. Bulky and heavy orders can cost more. You will be notified if this occurs.